Overhead Cranes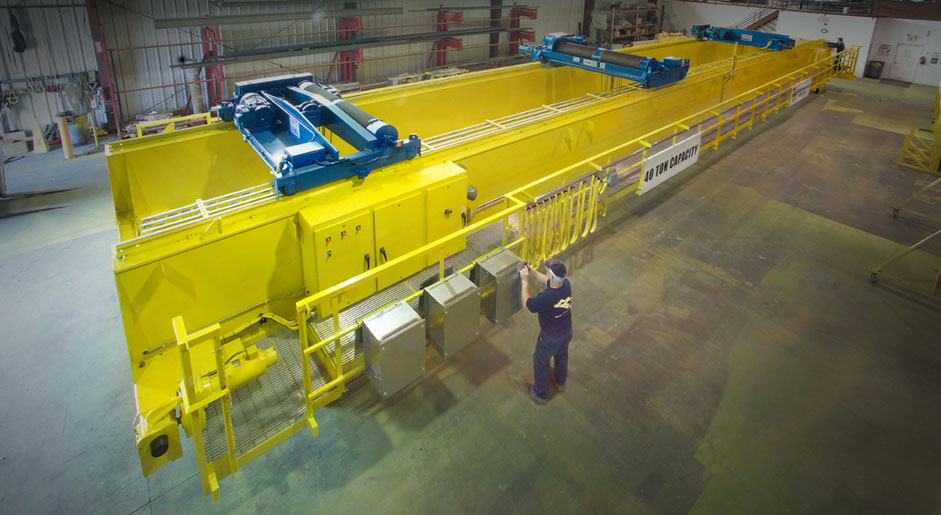 We do not "dabble" in overhead cranes, as has been the new industry trend of sling houses and fab shops building "kit cranes". Demanding applications requiring the undivided attention of an experienced engineering and design group is our strength.
At its upstate New York facility Zinter designs and manufactures single girder cranes, double girder cranes, under running cranes, top running cranes, patented track cranes, gantry cranes, jib cranes, wall traveling jib cranes, stacker cranes, and clean room cranes. Most cranes incorporate a wire rope hoist or a chain hoist. While most of our cranes are installed in New York, Vermont, Massachusetts, Connecticut, New Jersey, and Pennsylvania; Zinter Handling Inc. has overhead cranes in service in nearly all fifty states.
Zinter Handling Inc. is New York State's #1 crane builder!
Below are examples of different overhead traveling bridge crane configurations. To determine which type is right for your application, contact one of our experienced staff members.
Powered Rotation Hydraulic Lift Stacker Crane

7 ton capacity top running double box girder hydraulic lift stacker crane with 48" load centers as measured from the face of the 8 foot long forks.

300/165 Ton Top Running Double Girder Crane

Top Running Double Girder Crane

Shown here is a CMAA Class "D" 40 ton capacity, 71'-4" span box girder bridge. The two outside hoists have a 20 ton capacity and the hoist in the center has a capacity of 40 ton. Trolleys are synchronized using Variable Frequency Drives. Hoists are synchronized using Closed Loop Flux Vector drives. Primary means of control is Radio, with backup traveling push button station.

Under Running Double Girder Crane

This 10 ton capacity bridge features a top running dual girder ultra-low profile trolley hoist. Riding under one of the bridge girders is a 2 ton capacity "javelin". The javelin hoist is used to project product under the runway beam and into the adjacent bay. Controls include collision avoidance systems to limit bridge travel when the javelin is extended between building columns.

Twin Hook "Reel" Crane

This type of crane is custom designed and manufactured by Zinter Handling Inc. for the paper industry. Handling reels of paper in a producing mill can be a very demanding application, set in unfriendly and some times harsh surroundings. The hoists are reeved directly into the lifting device to conserve valuable headroom.

Single Girder Cranes

Shorter spans may allow for the use of a single girder bridge crane. A monorail type hoist is used in conjunction with this bridge configuration. Single girder bridge cranes (as well as under running bridges) are usually limited to CMAA Class "C" service.

Patented Track Overhead Crane Systems

These cranes use a 3 piece runway and/or bridge beam fabricated for durability and maximum strength. Patented tracks lower flange is rolled steel with a high carbon and manganese content. It is not process hardened, instead it gets its hardness (durability) from the chemistry of the steel used. Patented track is used in under running applications where conventional W or S shapes would not hold up due to high use or in situations requiring extremely long life.



Double Girder Outdoor Service Crane

Tri Girder Crane

Turn Key System

Supplied with 50 ton capacity supporting structure

Hydraulic Lift Stacker Crane

7 ton capacity with 48" load centers as
measured from the face of the 8 foot long forks.

Top Running Double Girder Crane

with Rotating Twin Hook Hoist

Top Running Double Girder Crane

Under Running Double Girder Crane

Top Running Single Girder Crane

Top Running Tri Girder Crane