Double Girder Cranes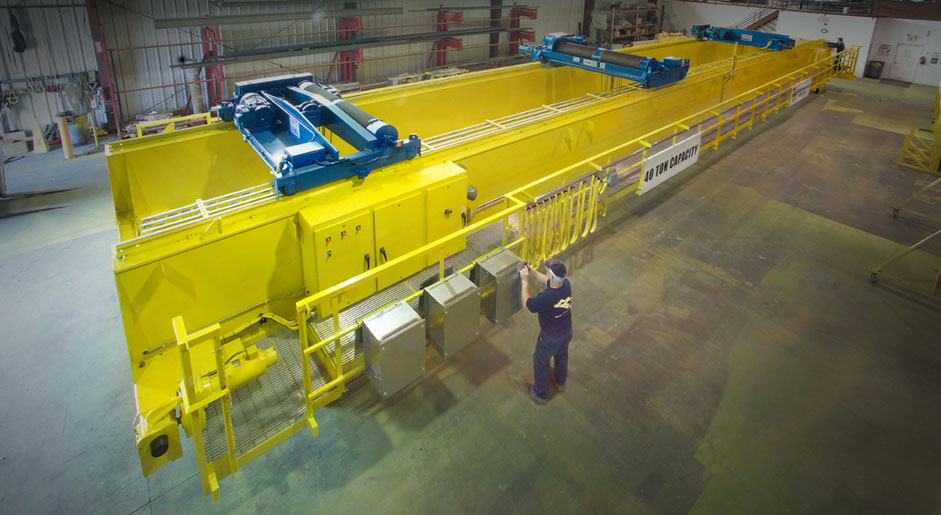 40 Ton Top Running Double Girder Crane
Demanding applications requiring the undivided attention of an experienced engineering and design group is our strength.
Below are examples of different overhead traveling bridge crane configurations. To determine which type is right for your application, contact one of our experienced staff members.
Powered Rotation Hydraulic Lift Stacker Crane

7 ton capacity top running double box girder hydraulic lift stacker crane with 48" load centers as measured from the face of the 8 foot long forks.

Top Running Double Girder Crane

Shown here is a CMAA Class "D" 40 ton capacity, 71'-4" span box girder bridge. The two outside hoists have a 20 ton capacity and the hoist in the center has a capacity of 40 ton. Trolleys are synchronized using Variable Frequency Drives. Hoists are synchronized using Closed Loop Flux Vector drives. Primary means of control is Radio, with backup traveling push button station.

Under Running Double Girder Crane

This 10 ton capacity bridge features a top running dual girder ultra-low profile trolley hoist. Riding under one of the bridge girders is a 2 ton capacity "javelin". The javelin hoist is used to project product under the runway beam and into the adjacent bay. Controls include collision avoidance systems to limit bridge travel when the javelin is extended between building columns.
Double Girder Outdoor Service Crane

Turn Key System




Two (2) 25-ton capacity top running double
girder bridge cranes supplied with 50 ton
capacity supporting structures. Radio controls
allow operation of both cranes
simultaneously form one transmitter.

Hydraulic Lift Stacker Crane

7 ton capacity with 48" load centers as
measured from the face of the 8 foot long forks.

Top Running Double Girder Crane

with Rotating Twin Hook Hoist

Top Running Double Girder Crane

Under Running Double Girder Crane